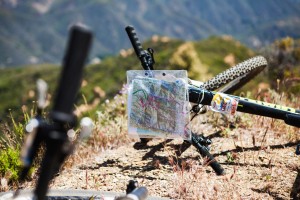 First Dawn to Dusk? We asked our veteran racers for advice, and here's what they said:
Pace yourself and fuel/drink extensively. If you feel like you you're bonking, take some time to recover and refuel; you can indeed recover and continue.

Make sure you get some training in. *Make sure you remember to bring your nutrition with you because it doesn't do you any good in your living room at home on race day haha (*lesson learned the hard way)

Expect everything to harder than you think.
There will not be natural or provided water.
There will be poison oak.
Race staff/volunteers aren't informed – you're on your own, they are instructed not to give you info.
Don't even think about getting all the check points unless you are an experienced adventure racer.

JUMP IN

Salt tabs!

Do not go to empty. Eat regularly and drink regularly! It is not about racing. It is about finishing.

Get lots of bike time in!

Fill your water anywhere you can. Bring lots of food you can get down when dehydrated. Bars are too dry. Bring shot blocks.

Consider the extreme terrain when you decide how many CPs you'll go for in the bike and/or orienteering. Very few teams/individuals got all the CPs. And less than 20 got to the orienteering at all.

Do it with a team.
Need more awesome tips? Check out our strategy page or our DO WORK page that outlines lots of training, nutrition, and race strategy!