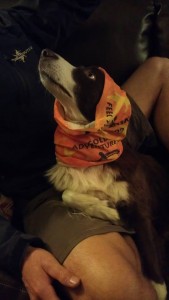 We've long known that dogs can be super champions at adventure racing – and generally our dogs accompany us on scouting and checkpoint pickups for that reason.
So it's no surprise that this year's Adventure Racing World Championships had a dog finish along with the rest of Sweden's Peak Performance. We watched with baited breath as this team, one of the favorites to win, slowly lost the lead over the course of six days and we wondered why.
By now, the world knows – it's been on Buzzfeed, DailyMail, and even NPR: Arthur the dog couldn't get enough of the Swedish meatballs that Peak Performance was packing.
We've long thought there should be an AR experience for our four-legged friends, and here's Arthur to prove himself. Mikael Lindord, captain of the team, took him home to a better life (and we're sure more adventures) and for now – he's the most famous dog around and doing a great job exposing adventure racing as a cool sport, full of even cooler people who will sacrifice a win for the sake of a new friend.
Cheers!