Our race director, Yishai, has been wanting to do another 24-hour race in the Sierra for a long time. The last one we did was a lot of work and in conjunction with shorter race and really took it out of us.
Since that one race a few years ago, he's been exploring his childhood stomping grounds – the Western Sierra by Huntington and Shaver Lake – but the course is extremely challenging and just does not provide the infrastructure to make it a solid "yes."
This year, after many years of success putting on races, I suggested we consider doing one on the Eastside (my stomping grounds in my early 20s). It's a world-class destination that's not overplayed by any stretch of the imagination, there are no competing adventure racers near by, and it's got everything we need to pull it off.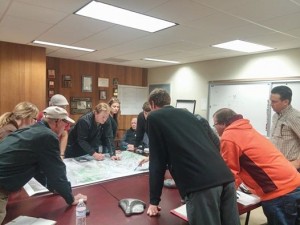 Yishai started with the land managers who were all beyond eager to help us. Throughout the week we met with ALL of them: BLM, Department of Water and Power for the City of LA, US Forest Service, City of Bishop, City of Mammoth, Mammoth Mountain, and Cal Trans. In fact, in an unprecedented experience, we had them all in one room! Everyone was eager to help us get it done, "This area needs more of this kind of thing," many going out of their way to research and recommend areas based on our needs.
We spent six days exploring the area, me taking Yishai to all of my favorite spots, and discovering new ones.  We can't give you all the details, but here are some shots from the trip to get you excited!
[gallery_bank type="images" format="masonry" title="true" desc="true" responsive="true" animation_effect="" album_title="true" album_id="1″]