We here at All Out Adventure Series know you guys expect our courses to be epic, and brutal, but did you know we work hard to make sure they're also doable? We've heard a lot about how this race is a bit scary in a lot of ways and we're here to tell you why this could be a great first 24-hour race for anyone ready to push past 12 hour adventure races, flatlanders or mountain goats alike.
It sounds awesome, but I think I'll wait until next year.
We have news for you – there will not be a next year. Why is that? Among other things, this takes a lot of energy and time on the part of the team, and the ends simply don't justify the means to make it an annual thing.
Another good reason is take a good look at a map of the area. See all that green? Most of that is wilderness. Wilderness = no races going through it. This is good and bad news. The bad news is, well, you can't go through some of the best the High Sierra has to offer – and that means our course options are quite limited – and we want to take you on the best possible path we can.
The good news? 1 – you can probably figure out where you're heading on this race – making navigation a snap. 2 – doing this race is going to make you part of the elite that can say you did.
11,000 feet to 3,000 in 24 hours? That's a lot of altitude.
A lot of altitude DROP. Here's a photo of Mt. Tom from Bishop. Mt. Tom is almost a 14,000 foot peak, but it's not.
You're starting a ways north of Mt Tom, at Mammoth Mountain: elevation 11,000 ft. Here it is.
Gosh, 11,000 feet is still pretty high . . . and that's still a pretty big mountain . . .
BUT DO YOU SEE THAT? DO YOU SEE THAT IT'S A SKI HILL?
And you know what else? It's also not covered in snow right now. You know what it becomes? A BIKE PARK! A world-class BIKE PARK! And you know how you get up to the top of the mountain at a bike park? Hint, it's not riding up. That's right, folks, your entry is buying you a ride up to the top of Mammoth Mountain. You won't be sucking wind at 11,000 feet, but we can't guarantee you won't be feeling airy at the top (I know I do when I ride there). And that's the highest you're going the whole race, because all the other mountains in the area are wilderness.
When we say it's all downhill, folks, it really is. (Well, mostly. The area undulates in true epic-volcanic/ancient-rockbed-pulsing-up-out-of-the-ground/glacially-carved fashion.) We won't make any promises to those of you who want to hit all the checkpoints – but if you're short coursing it . . . ? Yup! SO MUCH WEE!
Yeah, it takes some up to get here . . . we'll admit it. Up to you if you want to though. No shame in rolling all the way home.
So it's a boring course.
Hardly.  The complete changes of terrain you're going to hit will blow your mind if you haven't been out here. Mountains to high desert and everything in between. Plus, we found a 500-foot free-hanging rappel somewhere out there. And you know we like to give you treats for your hard work! But it won't be fun telling you what the treats are ahead of time, right?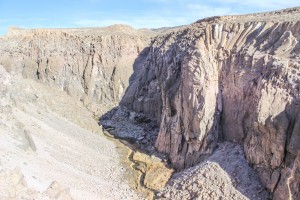 So here's a pretty picture.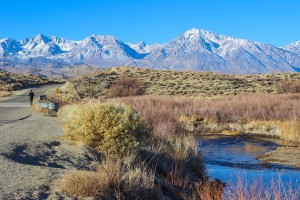 Treats. They're out there.
But I haven't ever been that high/I'm not comfortable at that height.
Trust me, I get you. First off, if you haven't been to the High Sierra, you probably have images of Everest in your mind. It's not quite that epic. It's pretty awesome, but the coolest thing about the east side is how the Sierra Nevada ramps upward slowly from the west and then drops RIGHT OFF, where you'll be. All the awesome stuff is actually really accessible, and we highly recommend you go a couple days early to get used to the altitude. You might feel a little winded and out of shape on the mountain, but you'll adjust nicely, even if you don't have a day or two to acclimate.
If you do, here's a couple things you should definitely check out (or send the friends and fam to go see):
Tuolumne Meadows (Yosemite – it's an hour and a half drive from here to the famous Valley if you have time)
Tioga Toomey's – The very best food you'll ever get at a gas station – so worth it! (They opened one in Mammoth if the Mobile Station isn't open)
Hot Creek and then soak in Little Hot Creek or any of the other awesome hot tubs
The Earthquake Fault (it's everything you've ever dreamed of)
Oh, also, world class fishing, road riding, hiking, and climbing – did we mention that??
Plus, Mammoth and Bishop are both pretty cool to hang out in.
Need tips for dealing with altitude? Here you go:
Hydrate, hydrate, hydrate
Slow and steady wins the race – watch your heart rate!
Caffeine for headaches – especially delicious dark chocolate
Oh, and one symptom of altitude adjustment is really helpful for this race – insomnia! It'll be WAY easy to stay up all night!
Night orienteering, scary.
Well, good news there. Take a look at that map again. See the big highway going through the non-green area? It'll be pretty hard to get lost. Uphill = Mammoth. Downhill = Bishop. Keep going down and you'll hit the finish line one way or the other, and probably the highway before it.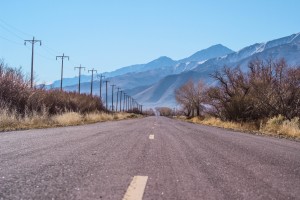 Oh, and it'll be close to a full moon. Most nights on the eastside are clear, too.
I have about had it with your brutal ocean kayaks.
Well, the best news is – no ocean here! Nice flat, tame lakes and rivers.
RIVERS? Yeah, guys, yeah! Lovely downhill running rivers . . .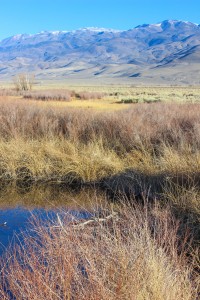 All this for just $365 bucks a person: we've got your sexy waterproof topo maps, kayaks, tech shirts, finisher prizes, breakfast, and more waiting for you! Register now or miss out – reg closes June 1!
Get the details here! – Be sure to check out the submenu with even more info in the drop-down navigation bar under "events"
There's free camping, in-town camping, and great hotels to choose from. No excuses! Get it going!!!
The mules are waiting!