None calendared currently!

Are you ready for what could possibly be the best 24-hour adventure race ever?
We're taking you from the mountains to the desert this year in the ultimate exploration trip of California's Eastside. No marked trail.  No aid stations. Just you and/or your team navigating across the mountains and high desert, through fascinating geological sites and hugely varying, gorgeous terrain.
Relay Option: 
Not feeling the whole 24-hour race on your own, how about splitting it up with a partner or group in the most epic adventure relay? One teammate or group of teammates does the first half and the second the final half. Both halves come fully loaded with world class mountain biking, kayaking, trails and of course scenery.
CASH will be awarded to the top three co-ed and female teams. 
1st Place – $1000 2nd Place – $700 3rd Place – $300
Think you're ready?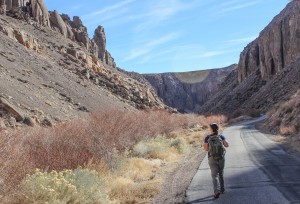 This event incorporates:
15+ miles of lake and river kayaking
60 + miles of mountain biking (road, fire road and single track)
40 +miles of foot travel including technical trail running/scrambling
Map and Compass navigation (no marked course)
Technical rope sections (rappelling, ascending, zip line or Tyrolean Traverse)
Registration includes:
Race entry
Tandem rental kayak, PFDs, seats, and paddles
Continuous, waterproof topographical course map (1:24,000) with mandatory transition areas and checkpoints pre-marked
Race bib and timing
Pre-Race Clinic
Post-Race Breakfast party
Bus transportation to the start
All insurance, permits, and safety staff
Finisher prize
Tech Tee
24 hours of epic memories
USARA qualifier for nationals
Experience:
The All Out 24 is a serious undertaking that will challenge the most experienced of athletes; take time to prepare for this event. Before starting any training program consult a medical professional about potential risks involved.
We recommend single track biking, running and kayaking as ways to prepare for this race. Basic knowledge of rappelling is highly recommended. You should practice reading a map and using a compass.
This race should be a good first 24-hour challenge for new participants opting for the short course, but experienced and fast teams will see the most amazing things we can throw at them as they go for the optional checkpoints.
We provide a number of options for those with different experience – we have a high level of DNFs each year and you should go into this race knowing that is the case. It is solely up to you to decide which routes to take and whether they are within your abilities to finish the race. If you are a beginner to this sort of thing, we suggest that you plan out checkpoints to skip and keep time to make sure you're progressing on the schedule you anticipate, altering your plans as you go. Dead Last is still more awesome than Did Not Finish and getting lost in the dark!
You do not need a support team for this race – it is designed to be self supporting. You will pack your gear in bins for each transition area, details will be sent out in our pre-race email sent a week before the event.
Safety
We understand you're putting your life in our hands for the time you're on the course and we want you to know what's on deck should you need it:
We have on staff, and work with the local Search and Rescue teams, to provide EMTs and rescue equipment on course throughout the whole event.
Our on site medical director is a board certified Emergency Room Physician.
We also have arrangements with CalStar, an air ambulance, and H80, the local CHP rescue helicopter for ALS and hard to reach locations.
On the water we have a patrol boat for kayak and boat safety.
The worst injury we have had in our 9 years was heat stroke and we had an IV in him in 10 minutes en route to the local ER in 20 minutes.
All of our transition areas and course marshals have VHF radios that use a repeater so we have communications throughout the entire course, as little to no cell phone reception is available in some of the areas we travel through.