May 12, 2018
12+ Hours. We are taking the course to San Luis Obispo's coastal mountains this year – No marked trail.  No aid stations. Just you and/or your team navigating across the mountains, trails and water. The course will feature a flat water paddle, swim, huge mountain bike section, two epic foot sections and a 500′ Tyrolean traverse.
CASH will be awarded to the top three co-ed and female teams. (Adventure racing is traditionally a four-person co-ed team event. We support all combinations of 1-4 team members, but we give cash to those who include women on their team.)
Think you're ready?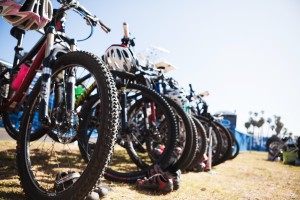 This event incorporates:
4 miles of flat water kayaking
20-30 miles of mountain biking (road, fire road and single track)
10-15 miles of foot travel including technical trail running/scrambling..
300 yard swim
500′ Tyrolean
Map and Compass navigation (no marked course)
Registration includes:
Race entry
Continuous, waterproof topographical course map with mandatory transition areas and checkpoints pre-marked
bus to race start
Race bib and timing
Pre-Race Clinic
Post-Race BBQ and Beer (21 and over)
Finisher prize
Awsome Tee
12+ hours of epic memories
Experience:
The Dawn to Dusk is a serious undertaking that will challenge the most experienced of athletes, take time to prepare for this event. Before starting any training program consult a medical professional about potential risks involved.
We recommend biking, running and kayaking as ways to prepare for this race.
The Dawn to Dusk provides a challenge to experienced adventure racers and those who are new to adventure racing. However, it is recommended that racers have some experience with navigation and endurance activities. We provide a number of options for those with different experience – we have a high level of DNFs each year and you should go into this race knowing that is the case. It is solely up to you to decide which routes to take and whether they are within your abilities to finish the race. If you are a beginner to this sort of thing, we suggest that you plan out checkpoints to skip and keep time to make sure you're progressing on the schedule you anticipate, altering your plans as you go. Dead Last is still more awesome than Did Not Finish and getting lost in the dark!
You do not need a support team for this race – it is designed to be self supporting. You will pack your gear in bins for each transition area, details will be sent out in our pre-race email sent a week before the event.
Safety
We understand you're putting your life in our hands for the time you're on the course and we want you to know what's on deck should you need it:
We work with the local Search and Rescue team to provide EMTs and rescue equipment on course throughout the whole event.
We also have arrangements with CalStar, an air ambulance, and H70, the local CHP rescue helicopter for ALS and hard to reach locations.
On the water we have a patrol boat for kayak and boat safety.
The worst injury we have had in our 9 years was heat stroke and we had an IV in him in 10 minutes en route to the local ER in 20 minutes.
All of our transition areas and course marshals have VHF radios that use a repeater so we have communications throughout the entire course, as little to no cell phone reception is available in some of the areas we travel through.
Strategy
by D2D Champion Team Tecnu captain, Garrett Bean
Are you thinking about trying out the Dawn to Dusk 12 Hour Adventure Race, does it sound ridiculously hard and insane? The reality is that this race is feasible as two 11 year olds (Griffin Chen and Sam Uriarte) demonstrated by completing the race in 2012! The three things that are essential in completing a 12 hour race is perseverance, a sense of adventure and a little preparation.
There is no question that a 12-hour race is going to be a little more difficult than a 2-4 hour race, but you are getting 3 to 6 times as much fun, and you then deserve 3 to 6 times as many beers! In the Dawn to Dusk the race director will set you loose on a course that will typically involve mountain biking (20-25 miles), trekking (6-12 miles), kayaking (3-5 miles), and some other disclosed events that may include a rappel or climbing over/through obstacles in a remote lake. Along the way it will be your responsibility to find your location on a map and follow trails to the next checkpoint. If you know how to ride a bike, hike, paddle, and read a map you will be able to compete in the race.
Preparation is the key to successful completing any adventure race and in my experience that means having the skillset required to participate in every stage of the race, training to make sure your fitness can take you through the race, and preparing your food and hydration so you can complete the race. I briefly go over each aspect below and hopefully this will give you an idea of what it takes to complete the Dawn to Dusk!
Skills
Mountain Bike – Each team member should be able to ride a mountain bike on a mountain.  That means if all you have ever done is take your hardtail or full suspension bike to the boardwalk, it is time to get it dirty. The Dawn to Dusk 12-hour race will take you on paved roads, fire roads, and single track. Don't let this intimidate you, get out on the mountain, ride up a couple hills, and then get used to the feel of some dirt beneath the tires. You don't have to go 30 mph downhill, take your time and go at your own pace. If you don't want to ride a steep part, you can walk your bike down the sections you are uncomfortable with and then hop back on for the next section. Just remember, rubber side down.
Trekking – Have you completed a hike that lasted more than 2 hours or a 10K? If you answered yes, then you can do this. Trekking is not rocket science and almost everyone can put one leg in front of the other. You will climb some mountains, cut across some valleys, and jog some down hills. The one thing I would say is use trail running shoes and gators (keep stickers prickly things out of socks) and do not use hiking boots.
Kayaking/Paddling – Know how to paddle a kayak. The important thing here is to be able to get yourself into and out of a kayak, believe me easier said than done for some people. Dawn to Dusk provides very stable kayaks that are easy to paddle. You can bring your own if you want. A good thing to do before the race is to go rent a kayak and paddle with the person you will be paddling with in the race. You should make sure that your cadence and paddling strokes are similar. When the front person puts their right paddle in the water, the person in the back should be doing the same. When going straight both people should be paddling on the same side and at the same cadence. Occasionally the person in the back will have to alter their stroke to steer the boat. One hour on a kayak will provide you more than enough time to figure this out.
Navigation – The last skill that one person on your team needs is to know how to read a topographic map and navigate to each checkpoint. This person will need to be able to look at a map, identify the team's location, and determine what trails or path your team needs to take to reach the next checkpoint. It is not overly complicated but this person should know how to use a compass and examine contour lines to identify topographic features like valleys, saddles, drainage channels and mountain peaks. If you do not know how to do this REI offers a class and the Tecnu Adventure Racing team hosts a navigation clinic the day before the race. Don't worry in a course of this distance it is hard to get extraordinarily lost, although at least once it will happen. Trust your skills here, and know how to recognize lost teams… don't follow them. The blind leading the blind is never a good thing.
[All Out note: please remember that part of navigation is deciding just how many checkpoints you should be going for based on timing, weather, and the current ability of your team. We generally lay out choices like optional checkpoints for harder terrain. Remember that you can finish with less points and get the whole course – if it looks easy but there are lots of checkpoints that you don't have to get – it's probably not easy! ]
Training
Training is important and your team needs to have the fitness to go the required distance from start to finish. In total you will be covering approximately 45 miles. Seems like a lot but it only turns out to be 3.75 mph which is 16 minutes/mile. Here is a hint, you walk that fast!
Your training is as important as your skills and will determine how quickly you progress through the race. If you have trained and are prepared for the race it will make it more enjoyable. If you are not currently active I would suggest a training program of around 3-4 months minimum to prepare for the race. If you are a moderately fit person that exercises around 2-3 times a week already, you can get yourself ready for a 12 hour race in about 2-3 months. I would generally suggest training between 5 to 10 hours a week, or more if you want to stand on the podium.
Important things to consider when training:
1)      Train in the same percentages as each of the disciplines in the race. For most people the duration (not distance) of the race is about 45% bike, 40% run, and 15% paddle, that is the same ratio you should use for training during the week. If you can't get to a boat for a paddle, try and perform an exercise that utilizes the same muscles.
2)      Also, remember that you will be racing with a backpack. In the beginning of your training regimen you do not need to wear a pack, but over time and prior to a race you should train for at least a month with your pack on to know how it feels.
3)      Train with your team if possible, it is great to know the level of fitness of your team so you know what to expect in the race.
Nutrition and Hydration
Nutrition and hydration are very important and a plan is essential to finishing your race. Since temps can reach into the 90's at times, you need to make sure you are taking in water constantly. This will help cool your core temperature down. As you perspire throughout the race, you also need to make sure you are replacing your salts and essential minerals. [AOE note: if you start to feel chilled on a hot day or you are not sweating, it is time to check in with your body, rest and look for ways to hydrate – these are early signs of potentially dangerous dehydration and can escalate without attention.] I always suggest supplementing your intake with sports drinks, but suggest drinks like Accelerade or Accel Gel followed by water. [AOE note: you may want to also try the packets of FLUID performance mix, rather than recovery – you can add them to your water throughout the day.] These gels and drink mixes taste great and will provide you with carbohydrates, vitamins and minerals, and protein that will help your muscles endure longer and recover more quickly. Much better for you than the old school sugary Gatorade drink mixes. Remember, some foods may turn your stomach upside down and send you running to the bathroom instead of the next checkpoint! So during your training start testing products and foods out so you know what works and how much you need.
Every person will have different preferences and consume calories at different rates based on their fitness and exertion. Typically I will burn between 200 to 300 calories an hour. It was very important for me to test out different foods and hydration drinks during training, now I know exactly how much and how often I need to take in nutrients when racing and I don't have to carry around the excess food weight when I race. [AOE note: you will be shocked at how little you want to consume on course. Test your nutrition during training or endurance days to see what works for you.]
Overall, know that this race is feasible with a little training. You will have an epic adventure and the race directors are awesome. Don't forget your Tecnu showers after the race, you will be happy you did.
[All Out: the 12-hour is an estimation. A racing team like Tecnu Extreme can finish our courses in 8 hours. Most finish 12-13 hours – some don't come in until long after that – largely because of a combination of poor route choice and physical inability to keep the pace they planned on – don't over estimate yourself, especially if this is your first race!]
Gear
The following gear is the minimum gear required for safe travel during the Dawn to Dusk. Teams are free to bring any additional items they feel necessary provided they are not on the list of prohibited equipment.
Please keep in mind that there are no aid stations. All food and water must be carried by participants. It's possible to stage food, water and gear in the transition areas.
Individual Equipment (to be carried at all times during the race)
Race Bib (provided by race)
Cell phone
Backpack with or with out water bladder
Water
Whistle
Knife or multi tool
Long sleeve shirt (wool or synthetic)
Survival mirror
Headlamp or flashlight
Emergency blanket
Team Gear
Orienteering Compass
Pen or pencil
Map (provided by race)
Passport (provided by race)
First Aid Kit (1 per team) We recomend the Adventure Medical Kit .5 from AMK
4"x4" sterile gauze pads
Assorted band aids
Adhesive tape
Antiseptic wipes
Antibacterial cream
Moleskin
Antihistamines
Anti-inflammatory (Ibuprofen)
Mountain Bike (per person, to be carried during all mountain bike sections)
Approved Mountain bike*
Snell or ANSI approved bike helmet
Spare tube, patch kit
Bike pump/CO2 (1 per team)
Tire irons  (1 per team)
Bike multi-tool (1 per team)
*Bikes may be inspected at registration to ensure they are in good repair and recently tuned with reasonably new brake pads. All bikes must be approved by a race official to be used during the race. Cyclocross, road or tandem bikes will not be allowed.
Kayak Section
Kayak
Coast Guard Approved Life Jacket
Paddle
The kayak section items are NOT included in race entry. You are welcome to bring your own or rent.
*The kayak is an open ocean paddle. be prepared to paddle through surf, wind and current*
Ropes Section
Each person will need the following items (the linked items are merely suggestions)
 Recommended Items
Sunglasses
Sunscreen
Hat
Wetsuit – the ocean is cold
Additional dry clothing
Warm clothing for after the race
Towel
Waterproof map holder
Tecnu or other anti-poison oak product
gaiters (You will be running in a lot of sand)
Water filter or water treatment chemicals
Notice: Race officials may do gear checks anytime during the race. Failing to comply may result in time penalty.
Prohibited Gear:
GPS or other satellite navigation systems (SPOT is OK)
Motorized equipment
Two way radios
Controlled substances (prescribed medication is acceptable)
Rules
Main Points
Race management reserves the right and authority to change the course, route and stages of the race at any time due to a real or perceived risk to participants safety or the spirit of the race
Teams will receive map, passport and passport instructions race morning
No motorized equipment (motor on kayak or bike)
Teams of 1-4 in any combination are eligible to tackle the course
Teams of 4 will be given a 10 minute handicap for the kayak portion of the event
General Race Rules
Racers are required to provide their own hydration and nutritional supplies for exercises between 8 and 12 hours.
All race activities are to be completed by team members only
All racers must follow the rules of the road (stop at stop lights and stop signs) observe the right of way
Team members must stay within 100 meters of each other
All teams must finish the race with their passport
Racing bibs are to be worn, visibly, at all times during the race
Course 
Competitors are required to follow the course, route of travel and method of travel when stated
Please don't liter or leave anything behind on the course. Leave No Trace!
Gear checks may be performed. Please oblige in a courteous and timely manner
Cutoff times and locations will be enforced. Times and locations will be given at pre-race meeting.
An ANSI or Snell approved helmet is required for mountain bike and rope sections.
Check Points
Teams will travel from check point (CP) to CP, requiring navigation and route finding teams must present their passports to race officials when asked.
Kayak Rules
You are required to wear a Coast Guard approved P.F.D. life jacket at all times when in kayak and otherwise instructed.
Bummer
A time penalty or disqualification may be imposed for a violation of any of the race rules. In the event that a team is assessed a time penalty, the time penalty shall be served by the team prior to crossing the finish line. Time penalties shall be cumulative and a team may be assessed more than one time penalty for violations of the same rule.
Teams missing a CP will have the opportunity to acquire the CP prior to finishing.
Penalty times range from 10 to 60 minutes.
Schedule – May 12, 2018 
*Schedule is Subject to Change*
Friday, May 11
Event
Location
5:00pm to 9:00pm
Team Check In
Coming Soon
5:00pm to 9:00pm
Kayak Staging Open
Coming Soon
5:00pm to 9:00pm
Bike Staging Open
Coming Soon
6:00pm-7:00pm
Race strategy by  Cyril Jay-Rayon
Coming Soon
Saturday Oct ?
Event 
 Location
5:00am to 5:45am
Map Distribution
Coming Soon
6:00am
Bus to Start
Coming Soon
6:30am
Arive at Start
Coming Soon
6:45am
Race Briefing
7:00am
START
7:00pm
FINISH
Coming Soon
5:00pm-8:00pm
After Party & Awards
Coming Soon
Location
Hotels/Camping/Weather
The White Oak Site at Santa Margarita Lake in San Luis Obispo, CA
Camping is available at Santa Margarita Lake please click here or call 805 788-2397
There are no close hotels, though the KOA does have cabins that may be available.
Weather can be anything from cool, clear mornings to heavy fog and over 100 degrees. Watch the weather and prepare accordingly!
The Dawn to Dusk exists because our staff loves this area and wants to share every drop of its goodness with you. Whether you're done with a race and have a weekend to kill, or you have enjoyed your stay and want to come back, here is a basic guide to all the awesome things around to check out!
And did you know you can go Car Free?
Things to do in SLO Town:
Shopping galore! Our favorites are Quirkworld, Amnesia, and Phoenix books.
Go to a show at the Fremont, our art deco movie house, or the Palm, our indie film spot that's solar powered!
Grab coffee at one of our many awesome local spots: Uptown, Linnea's, Kruezberg, and West End.
Sample some of our fine dining: our favorites are Big Sky Cafe, Mama's Meatball, Novo, Blue, Chilie Peppers, Bliss Cafe, Firestone, or any of the awesome Thai (one's even vegan) and Indian food spots in town.
Thursday night farmer's market: live shows, great food, and the big social scene.
Check out Bubble Gum alley, the Madonna Inn (and it's famous men's bathroom downstairs), see what's happening at the Mission, or catch a movie at our drive-in theater!
Beyond Downtown
Check out local hikes! We highly recommend Bishop Peak (the classic), Reservoir Canyon, Upper Lopez Canyon, Poly Canyon and it's funny architecture structures, and Montana de Oro.
Sun yourself on our beaches! Morro Bay is killer for a long walk or a surf break, Pismo is the classic tourist destination, and Cayucos and Avila both have great places for doggies to romp.
Try out some climbing – we've got The Pad Climbing Gym open everyday from 11am-10pm (run by your favorite race directors, too) and Bishop Peak's got some fun single-pitch trad and sport climbing along with some bouldering.
Mountain bike! We have some classic routes here, serious technical riding, fun rolling hills, and everything in between. Want to take lessons to get better? Consider the All Mountain School!
Road bike! There's a reason we have pros come here to train – great hills, great flats. Choose to ride through the oaks or along the ocean, or both! We're sparsely populated so none of those pesky stop signs . . .
Kayak – we have great outfitters.
Wine tasting. Duh, you haven't heard we're a bastion for grape growing? Pick a direction and taste the hints of oak and leather.
Cal Poly – interesting architecture, cool animal raising facilities, botanical gardens, neat exhibitions, and sporting events.
Walking tour – Check out our architecture, gardens, and crazy niches. This blog can get you started.
Some of the more colorful SLO Area attractions
South County: the Butterfly Grove (it's seasonal), Pismo Dunes, Doc Burnstein's Ice Cream Lab, Klondike's Pizza (if you aren't allergic to peanuts, that is), Pismo's famous clam chowder.
North Coast: Morro Rock (and Tognazzini's fresh seafood restaurant and deck), Montana de Oro State Park, Cayucos (check out the Sea Shanty for awesome pies and Cass House for some of the best eats you'll have the chance to sample), Cambria (Pines by the Sea), the Nit Wit house, Hearst Castle and theelephant seal beach.
East County: check out condors, Pozo Saloon (whether you catch a concert there or have a "martini" which is beer in a jar with some olives), or the desolate Carrizo Plains.
Looking for an adventure vacation? Check out Central Coast Outdoors!