This article is designed to address the 3-5 hour length event. If you are competing in the 6-hour event, please read this article along with this one for the 12-hour to balance your expectations and preparation!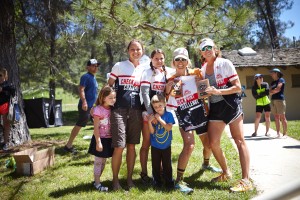 Adventure racing is often thought of as an epic, brutal day of suffering, but it doesn't have to be. This is most true for the rare, but beloved, Checkpoint Challenge.
AR has traditionally called this division a "sprint" but we felt the name was misleading. Therefore, we call it the Checkpoint Challenge because sprinting is entirely optional but the checkpoint gathering isn't!
Racers will experience 2-4 hours of kayaking, trekking (at this distance, many do run, but many do not) through fields, up rocks, and on trails, and mountain biking beginner trails (some fire road, but yes, some single track), along with some fun team challenges in pursuit of filling their passcodes with the right punches.
So how fit should you be and how do you get fit to begin with?
First, the skills you need to acquire:
Kayaking – if you have never kayaked before, it's a good idea to rent a tandem kayak with your partner and give it a try before the race; there is absolutely technique involved, but don't feel like you need to be a champion here – at this level, kayaking is often everyone's weakness, especially with the provided sit-on top boats.  And, luckily, there's a great video on  YouTube showing you excellent technique if you're interested.
Mountain biking – this is a must-learn. If you're comfortable tooling around town or on a road bike for distance, you have that main components down. We do NOT suggest you attempt this race on anything other than a proper mountain bike (fat, knobby tires). Some people go into the race with very low mountain bike skills and complete the course, but you'll really want to give some single track riding a try, and there are some decent hills on course – you can of course get off and walk up and down them, but it's nicer if you can enjoy the trails – we put you on fun ones!
Trekking – you'll cover 5-7 miles on foot during the race, and this includes off-trail ascents, a little scrambling, and trails. Get some good hikes in and make sure you challenge yourself. A little skill in climbing up boulders is beneficial, as well, but not necessary.
Orienteering skills – the sprint race is designed as an entry into multi-sport adventure racing; the course will be marked and no orienteering is required. Just pay attention to course markings and have a general ability to read maps and you should be fine – we haven't lost anyone yet in almost a decade of sprint adventure races!
Special skills – these are accessible to everyone. Don't stress this in the least- it's just a puzzle that's fun to solve with your partner!
Now to the question of how fit you should be?
At a minimum, you should comfortably be able to paddle a mile – some upper body strength is required. If you aren't able to kayak, any reasonably fit person who fits the rest of our fitness gauges will probably have little to no issue on the kayaks.
Biking – be comfortable biking fast for 15 miles on flat terrain at the very least. This is not flat, but you will not need to be fast. You will need to be comfortable.
Trekking – get some good five mile hikes in, with an elevation of at least 1000 feet per hike, this can be rolling. It won't hurt to do a little bouldering outdoors or at your local gym, but not necessary.
If you've never put all these disciplines together, that's okay – on race day, you'll pull out all the stops. That's why the range is two to four hours: fit individuals with experience will finish in two, while the slowest individuals will finish in four. How much work you put in prior to race day determines your finish time – but it won't determine your ability to come out and really have a grand morning adventure with us!
For more specific training programs, visit California Adventure Racing Association's training schedules!