Santa Margarita Lake, California – near San Luis Obispo
None calendared
Choose between two races:
3-5 hour partner sprint  – ONLY teams of 2 
Half-day (6-hour) – teams of 1-4, need to be able to read a map
What's this all about? "Trekking over the river bed, climbing over boulders, and being treated view to the awesome view at the top!"
Grab your partners and head out to collect checkpoints on a kayaking, mountain biking, and trekking challenge, condensing a month's worth of adventure into a short expedition through California's beautiful backcountry. See some beautiful country and make lifetime memories!
"Teamwork was very important: when we worked as a team, we could achieve so much more than we could alone."
The Checkpoint Challenge partner race
incorporates:
8-10 miles of mountain biking (60% single track, not technical, but if you're used to sticking to fire roads, this will be challenging)
4 miles of technical trail running/scrambling/swimming (minimal swimming skills needed – if you can handle a pool, you'll handle this)
2-3 miles of kayaking
This is a great way to get introduced to traditional adventure racing! You'll experience the partner aspect while enjoying minimally marked courses that require you to follow your map.
Doing the half day?
Double the trek and kayak distances, add orienteering and epic ropes! You will be on less marked course and need to  rely on a map and compass to complete the course.
Registration includes:
Race entry
Kayak (for sprint distance only – 6-hour racers need to provide their own  – teams may share boats.)

NEW! Half day race? You can rent kayaks for delivery at 6 am race day here:
Book online now!

Continuous, waterproof topographical course map
Race bib and timing
Pre-Race Clinic
Epic memories
Finisher prize
Event T
Waves will be determined one week prior to the event depending on final numbers in each category. A maximum of 40 teams per wave in order to keep the adventure high and the crowds low. Lunch will be available for an additional fee on site.
Experience Needed
The Checkpoint Challenge is designed to challenge the elite athlete but remain achievable for the novice off the couch participant. As with most things, the more prepared you are the better your experience will be. Before starting any training program consult a medical professional about potential risks involved.
We recommend biking, running and kayaking as ways to prepare for this race.
You do not need a support team for this race – it is designed to be self-supporting. Details will be sent out in our pre-race email sent a week before the event.
"So proud that our team worked so well together. I was worried my partner and I would argue, but I reminded him that when we race, NOTHING gets in the way of the finish line!"
Safety
We understand you're putting your life in our hands for the time you're on the course and we want you to know what's on deck should you need it:
We work with the local Search and Rescue team to provide EMTs and rescue equipment on course throughout the whole event.
We also have arrangements with CalStar, an air ambulance, and H70, the local CHP rescue helicopter for ALS and hard to reach locations.
On the water we have a patrol boat for kayak and boat safety.
The worst injury we have had in our 9 years was heat stroke and we had an IV in him in 10 minutes en route to the local ER in 20 minutes.
All of our transition areas and course marshals have VHF radios that use a repeater so we have communications throughout the entire course, as little to no cell phone reception is available in some of the areas we travel through.
Strategy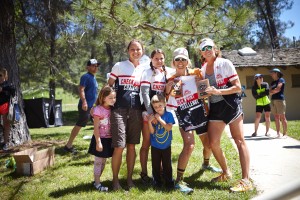 Adventure racing is often thought of as an epic, brutal day of suffering, but it doesn't have to be. This is most true for the rare, but beloved, Checkpoint Challenge.
AR has traditionally called this division a "sprint" but we felt the name was misleading. Therefore, we call it the Checkpoint Challenge because sprinting is entirely optional but the checkpoint gathering isn't!
Partner Racers will experience 3-5 hours of kayaking, trekking (at this distance, many do run, but many do not) through fields, up rocks, and on trails, and mountain biking beginner trails (some fire road, but yes, some single track), along with some fun team challenges in pursuit of filling their passcodes with the right punches.
Half day racers will experience 6+ hours of the same, but with challenges coming to you in the form of rope skills and navigation.
So how fit should you be and how do you get fit to begin with?
First, the skills you need to acquire:
Kayaking – if you have never kayaked before, it's a good idea to rent a tandem kayak with your partner and give it a try before the race; there is absolutely technique involved, but don't feel like you need to be a champion here – at this level, kayaking is often everyone's weakness, especially with the provided sit-on top boats.  And, luckily, there's a great video on  YouTube showing you excellent technique if you're interested.
Mountain biking – this is a must-learn. If you're comfortable tooling around town or on a road bike for distance, you have that main components down. We do NOT suggest you attempt this race on anything other than a proper mountain bike (fat, knobby tires). Some people go into the race with very low mountain bike skills and complete the course, but you'll really want to give some single track riding a try, and there are some decent hills on course – you can of course get off and walk up and down them, but it's nicer if you can enjoy the trails – we put you on fun ones!
Trekking – you'll cover quite a bit on foot during the race, and this includes off-trail ascents, a little scrambling, and trails. Get some good hikes in and make sure you challenge yourself. A little skill in climbing up boulders is beneficial, as well, but not necessary.
Orienteering skills – the sprint race is designed as an entry into multi-sport adventure racing; the partner course will be marked and no orienteering is required(this is NOT true for the half-day).  Just pay attention to course markings and have a general ability to read maps and you should be fine – we haven't lost anyone yet in almost a decade of sprint adventure races! Doing the half day? Just follow a team that know what they are doing. Navigation shouldn't be too challenging, but you can get lost if you don't practice map and compass skills prior.
Special skills – Partner race?  these are accessible to everyone. Don't stress this in the least- it's just a puzzle that's fun to solve with your partner! Half day? We have professionals checking your gear on rope segments, but you should come with a basic understanding of how to use it. If it's your first time on what we're throwing at you, relax. We're professionals.
Now to the question of how fit you should be?
At a minimum, you should comfortably be able to paddle a mile – some upper body strength is required. If you aren't able to kayak, any reasonably fit person who fits the rest of our fitness gauges will probably have little to no issue on the kayaks.
Biking – be comfortable biking fast for 15 miles on flat terrain at the very least. This is not flat, but you will not need to be fast. You will need to be comfortable.
Trekking – get some good five mile hikes in, with an elevation of at least 1000 feet per hike, this can be rolling. It won't hurt to do a little bouldering outdoors or at your local gym, but not necessary.
If you've never put all these disciplines together, that's okay – on race day, you'll pull out all the stops. That's why the range is two to four hours: fit individuals with experience will finish in two, while the slowest individuals will finish in four. How much work you put in prior to race day determines your finish time – but it won't determine your ability to come out and really have a grand morning adventure with us!
Gear
The following gear is the minimum gear required for safe travel during the race. Teams are free to bring any additional items they feel necessary provided they are not on the list of prohibited equipment.
Please keep in mind that there are no aid stations. All food and water must be carried by participants. It's possible to stage food, water and gear in the transition areas.
Team Gear – to be shared during the race (or mandatory for solo racers)
Pen or pencil
Map (provided by race)
Passport (provided by race)
Compass (6 hour only)
Individual Equipment (to be carried at all times during the race)
Race Bib (provided by race)
Water
Mountain Bike (per person, to be carried during all mountain bike sections)
Approved Mountain bike* – we do not rent bikes. You should have experience with real mountain biking, not just dirt roads, if you want a good experience.
Snell or ANSI approved bike helmet
Spare tube, patch kit
Bike pump/CO2 (1 per team)
Tire irons  (1 per team)
Bike multi-tool (1 per team)
*Bikes may be inspected at registration to ensure they are in good repair and recently tuned with reasonably new brake pads. All bikes must be approved by a race official to be used during the race. Cyclocross, road or tandem bikes will not be allowed.
Climbing (6-hour only)
Kayak (all kayak gear provided for 2-4 hour race)
Kayak (6-hour only, provided for 2-4 hour race)
Coast Guard Approved PFD (6-hour only, provided for 2-4 hour race)
Paddle (6-hour only, provided for 2-4 hour race)
If you need to rent a kayak we have arraigned two options with Avila Beach Paddle Sports
Recommended Items
Sunglasses
Sunscreen
Hat
(Half day only) Wheels or other way to portage your kayak  (click here for suggested item) you will not be allowed to drag rental kayaks
Additional dry clothing
Warm clothing for after the race
Towel
Tecnu or other anti-poison oak product
Long pants or gaiters (highly recommended)
 Prohibited Gear
Motorized equipment
Two way radios
Controlled substances (prescribed medication is acceptable)
RULES
Schedule – April 14, 2018 
*Schedule is Subject to Change*
Friday April, 13
Event
6:00pm-7:00pm
Race strategy by Bones Adventures
6:00pm – 9:00 pm
Kayak Staging for Half-Day
Saturday April, 14 
Event 
6:00am to 7:30am
Check in open – come at least an hour before your wave
5:00am to 6:30am
Half Day Kayak Staging Open
5:00am to 7:30am
Bike Staging Open
6:45am
Race Briefing – Half day
7:00 am
Race Start – Half day
7:00 am
7:45am
Race Briefing – Partner challenge (15 minutes prior to each wave)
8:00am
START Wave 1 – Partner challenge
9:30am
START Wave 2 – Partner challenge
11:00am
START Wave 3 – Partner challenge
1:00pm
After Party & Awards – continues until event is complete
Camping/Hotels/Weather
The White Oak Site at Santa Margarita Lake in San Luis Obispo, CA
Camping is available at Santa Margarita Lake please click here or call 805 788-2397
There are no close hotels, though the KOA does have cabins that may be available.
Weather can be anything from cool, clear mornings to heavy fog and over 100 degrees. Watch the weather and prepare accordingly!